"My passion belongs especially to the Rotgipfler - the Rotgipfler and his Ried Mandelhöhe are a brilliant couple with a lot of future!"
Native varieties quite extraordinary
LORENZ ALPHART deliberately plants Rotgipfler in the famous Mandelhöh single-site vineyard. This rarity is also found in his new Pressweingarten vineyard - and both wines are now among the most exciting in the region. One is delicate, unusually salty and firm, almost Burgundian, the other has intense tropical fruit and spicy roasted aromas. A comparison shows precisely how different terroirs can be expressed with the same grape variety. This is a high art and a real ace up the sleeve of this young winemaker.
Another of Lorenz's favourite varieties comes from a premium location: his Zierfandler thrives in the Otzler vineyard. It's a real pleasure when someone brings these quite complicated varieties so typically, and yet new, into the wineglass.
When asked about the secret of his wines, the ambitious winemaker says dryly: "Length instead of breadth."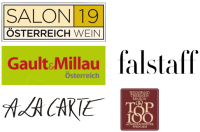 Winner of the SALON Wine competion 2019
Winner of the Lower Austria Wine competion 2019
2017 Chardonnay Reserve
Gault Millau (2019)
17,5 & 3 Grapes - 2017 Rotgipfler Reserve
17,5 & 3 Grapes - 2017 Chardonnay Reserve
17 & 3 Grapes - 2018 Rotgipfler Ried Mandelhöh
2017 Rotgipfler Ried Mandelhöh is chosen as the editorial team's favorite wine
A la Carte (2019)
93 - 2017 Rotgipfler Reserve
93 - 2017 Chardonnay Reserve
92 - 2018 Rotgipfler Ried Mandelhöh
falstaff.at
92 - 2017 Rotgipfler Reserve
92 - 2017 Chardonnay Reserve
91 - 2017 Rotgipfler Ried Mandelhöh
So this is what they look like. Our Single-Site Vineyard, Village, & Regional wines.
We are very pleased to be present you the quality designations of our wines with their new labels. Thanks to Alice Nemecek & Alexander Stock! Extraordinary is also the new design, wich subtly links the name of the winery with its most important vineyards.
We are the winners of the SALON Österreich 2019 wine competition!!!
The Salon Austria Wine is considered the "toughest competition and state championship" in the country. The 16 salon winners are the qualitative spearhead of the 7,000 blind tasted wines, including this year our Chardonnay Reserve 2017, which had just been chosen as the Lower Austrian state winner.
FACTBOX ROTGIPFLER
Rotgipfler is a crossing of Traminer and Roter Veltliner, and is related to Grüner Veltliner (hence its synonym Weißgipfler). Likewise with Zierfandler, Rotgipfler is a speciality found virtually only in the Thermenregion. Warm south-facing vineyard sites with good calcareous-based soils are necessary. With strict yield control, the wine shows a high extract content, pleasant acidity and a fine bouquet. It tends to age slowly and is often blended with the varietyZierfandler.